In 2015, the Telegram messenger announced their Bots. Basically they are pieces of software that act like a normal chat user in many ways. They could have any functionality, from being helpful at daily tasks to even simple games or trivias – all within an ordinary Telegram chat. You send them message, they give answers – some more and some less intelligent. Recently, also other companies – like Facebook or Microsoft – announced such bots for their messaging apps. Sometimes bots are even considered kind of the next step after native (web-) applications in the future.
From a developer's perspective, making a bot is fun, because there are almost no restrictions on how to develop your bot. All communication with Telegram works by requesting a single REST API provided by them. Choices like which programming language and -framework to use and how to structure the code are completely up to the developer. A Telegram bot can theoretically be built in any programming language. The only requirements are to be able to make HTTP request from the application and to have a server to host the bot on.
I've recently created two bots for Telegram that should each help with a daily task.
ExpenseBot – Keep track of your finances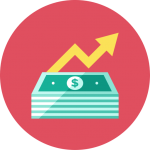 This bot's purpose is to help people manage their daily expenses and keep track of their financial situation. Users can add expenses from wherever they are using a few simple commands from within the chat and have an eye on how much they have spent in a month or a day. This obviates the need for confusing Excel spreadsheets or paper notes. You can reach the bot by sending a Message to @ExpenseBot in Telegram.
DoodlerBot – Coordinate group appointments
My second bot helps users coordinate a group of people and find the right date for a common appointment, just like you might know from doodle.com (even though it doesn't have anything to do with that commercial service, except for fulfilling the same need). Open a new doodle and let your mates in the group chat vote for their preferred date to finally make the best decision for everyone. You can reach the bot by sending a Message to @DoodlerBot in Telegram.
Both projects are completely independent, non-commercial and privately operated. If you have any questions our found a bug (both bots are still in beta phase and therefore might show some unexpected behavior), please contact me at @n1try or via e-mail. In both cases, you should first read a basic introduction on how to use the respective bot, by sending a message with /help to it.
In case you like my bots, I'd be really happy if you rated them at https://storebot.me/bot/expensebot and https://storebot.me/bot/doodlerbot. Have fun!